Fairplay Football Online Betting
Football is not so popular among bettors from India, however, some players like it. They follow popular leagues and tournaments with great enthusiasm and enjoy not only watching matches but also betting on them.
Since different football matches are held daily, finding a suitable event is effortless. Sign up for Fairplay football sportsbook now and take advantage of the favorable odds to potentially maximize profits.

Football Tournaments and Events
Indian bettors highly appreciate Fairplay football options, as the bookie features a vast set of matches with high odds held worldwide. All the features are accessible via desktop and mobile gadgets. Fairplay strives to provide Indian players with the best experience possible, offering several types of bets and a lot of betting markets: 1×2, double chance, handicap, total, etc. Of course, a significant number of competitions are at your disposal. Below is a list of prevalent soccer tournaments you can find on the site:
UEFA Champions League;
Indian Super League;
English Premier League;
World Cup;
Spanish La Liga;
Italian Serie A.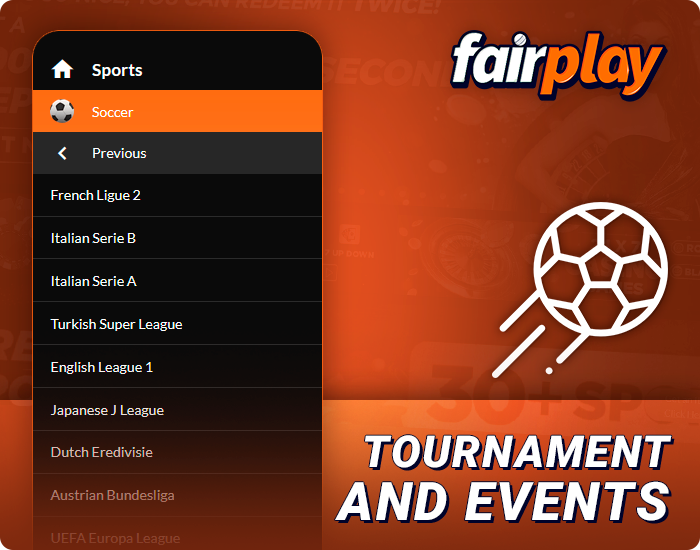 How to place a football bet
It is effortless to make bets through the licensed Fair play football betting site in India. All you need to do is either sign up or log in and follow these simple steps:
Go to the official website's homepage;
Access the bookie football section by selecting it from the top menu;
Pick the match you want to bet on;
Add your stake to the bet slip by choosing your desired bet type;
Input the sum;
Confirm your bet by selecting Place Bet;
Wait for the match results to see if you win and withdraw funds if any.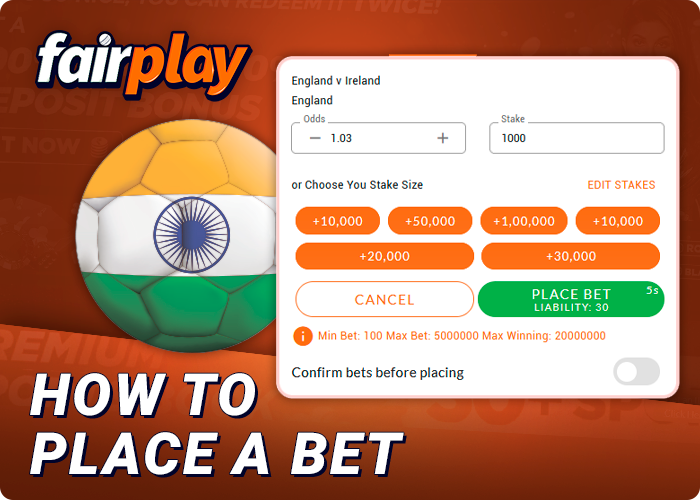 Advantages of Making Football Bets With Fairplay
There are a lot of advantages that make the Fairplay football bookmaker a top choice for bettors. The basic benefits are listed in the table:

A broad spectrum of events and markets
The site offers a broad choice of Fairplay football betting options, allowing you to choose from nearly 1,000 events each day

Various odds formats
Fairplay offers very high odds that can probably help you elevate your profits

Accurate Odds Verification
The team of expert analysts checks the odds for each game, making sure they are accurate

User-Friendly Software
The premium software brings you a convenient and intuitive experience that can be accessed via desktop or mobile devices

Safe and Secure Payments
This bookie is licensed and regulated, so its activity is legal and your transactions and personal information are under reliable protection

Fast Payouts
Fairplay football offers fast and hassle-free payment options, allowing you to receive your winnings quickly

Gifts and Promos
The sportsbook features a range of bonuses and promotions that can help enlarge your profits

24/7 Client Support
Fairplay's devoted support team is nearby 24/7 to assist you with any queries
Football Betting Tips
Making bets with INR at Fairplay Football India can be exciting and cost-effective, but it also takes knowledge and strategy to succeed. Here are a few tips to help you make smart choices and enhance your chances of winning:
Research – Before placing a bet, it is essential to explore the teams and players involved. Look at their recent form, head-to-head stats, injuries, and other factors that can influence the result;
Follow the news – You can make more informed betting decisions. To do this, you should analyze the latest news such as management changes, injuries, and transfers;
Understand the details – In order to succeed it is crucial to understand the odds. The chances of winning enlarge if you learn how to do it;
Adhere to bankroll management – Set a budget for betting and stick to it. Don't try to win back what you've lost by spending more than you can afford. This is vital for long-term betting success;
Keep records – Record your bets along with odds and outcomes. This will help you conduct analytics, identify errors, and be successful.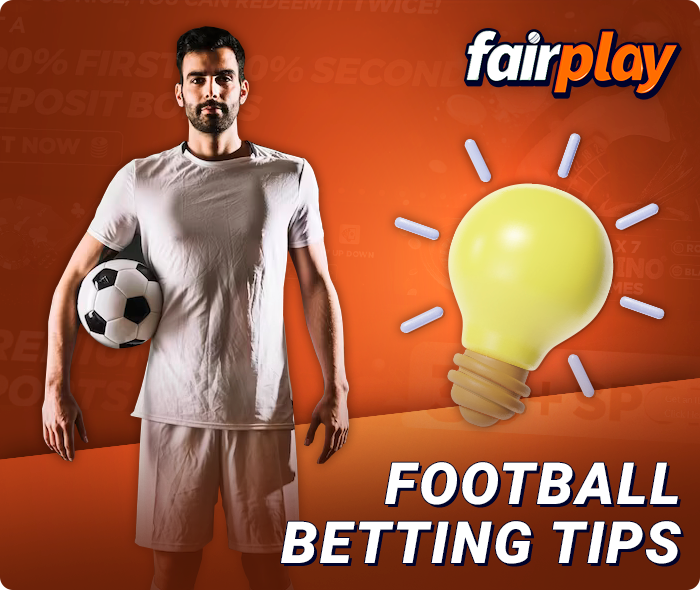 FAQ
Can I bet on matches in real time?

Yes, there is live football betting, so you are able to place bets during a match as the action unfolds. You can take advantage of the constantly changing odds to make informed decisions and potentially win Indian rupees.
Can I access live streams while making Fairplay football bets?

There are currently no live video streams, only detailed statistics and live updates of ongoing matches.
What happens if a football match I placed a bet on gets postponed or canceled?

If a match is postponed or canceled, Fairplay will void all bets placed on that match, and the stake will be returned to your account.